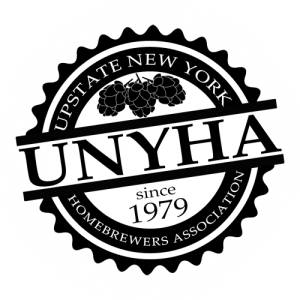 Welcome to the Upstate New York Homebrewers Association (UNYHA). We are dedicated to sharing and broadening the appreciation of and knowledge about the brewer's art within its membership and the public at large, through regular meetings and special events, in accordance with its philosophy of informed, mature and responsible enjoyment of homebrewed and commercially brewed beer.
We are excited to announce we are migrating our website to a new platform!
While we are under construction please refer to the resources below or feel free to contact us if you have any questions!
UNYHA ALERT! Monthly Meeting Change
Due to popular demand, our meeting dates and location have changed. We will now be holding our monthly meeting on the 2nd Tuesday of every month at Swiftwater Brewing. Swiftwater will be opening just for UNYHA. This meeting will be open to ALL current members and guests. Swiftwater's kitchen will not be open for this event, but beer will be available for purchase during the meeting and UNYHA will be providing pizza.
---
UNYHA Membership 2019
Membership for 2019 is now open! Please use the form below to renew or open a new UNYHA membership.
(Opens on a secure page. A paypal login is not required)
---
Oktoberfest 2018
UNYHA's Annual Oktoberfest is Saturday October 6th, 2018 at Creekside Lodge in Ellison Park from 11 AM to 9 PM.
Join us for our annual Oktoberfest celebration this year! Great fun for the whole family! Set in beautiful Ellison Park just east of 590 at Blossom Road, there are plenty of hiking trails, ponds, and playgrounds for everyone to enjoy. And lest we forget, the great beer and food! Also, bathrooms and parking are both right nearby this year.
Activities to include:
Chili Cook-off (Meat, Vegetarian, and Chicken categories)
Sausages from Swan's Market
Informal beer beauty contest. Prizes awarded for Best German Beer, Best other beer, and best cider/mead.
Bottle Share
Kegs generously donated from local breweries
Cost is an extremely reasonable $5 but this is a Pot-luck type of event, so we do ask that you bring a dish to pass to feed approximately 5-7 people.
We hope to see you there!
---
Contact Us
Our current club officers are listed below, if you'd like to contact them directly:
---
Monthly Mash Newsletter
For a list of issues, click here